How To Dry Medicinal Plants For Better Storing At Home
Drying is the easiest method of preserving medicinal plants. Simply expose the leaves, flowers or seeds to warm, dry air. Leave the herbs in a well ventilated area until the moisture evaporates. Sun drying is not recommended because the herbs can lose flavor and color.
Or, you can just simply put them in a drying machine.These machine could retain the terpenes, flavor, and THC content during drying proccess.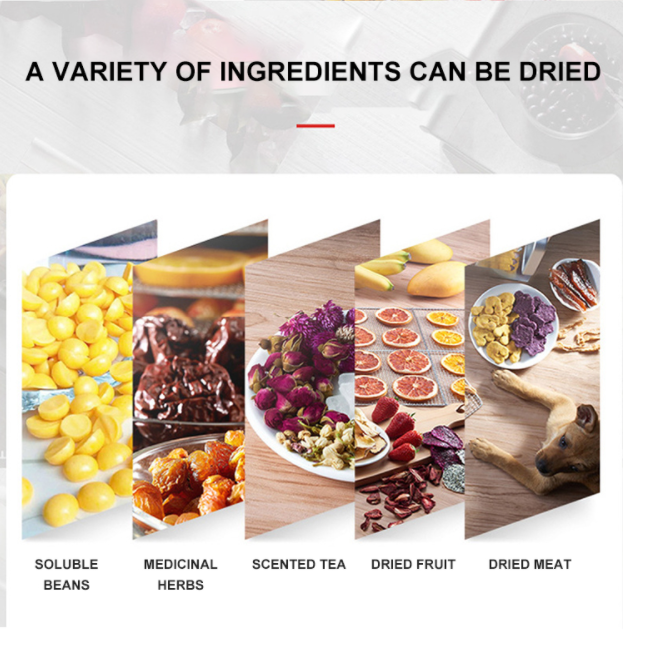 ECO Farm 6 Tray Medicinal Plants Dryer Machine for Indoor Growing Plants


6 tray: Six trays provide plenty of room to get creative drying anything faster! Also comes with a bonus fruit leather sheet and drip tray.
360º circulation: Simple, precise, digital controls activate 360º airflow circulation for thorough uniform drying without overheating- no rotation required.
Transparent door: Door is clear for easy at a glance monitoring of all sheets.
Fresh & healthy: Now you can make a more flavorful, nutrient dense, preservative/additive free, and much much cheaper alternative to commercial products.
ECO Farm 5 Trays Medicinal Plants Dryer Machine For Household


ECO Farm dryer machine can provide a quicker, more efficient for drying medicinial plant, give you high-quality drying results every time. And it's designed with small size that very convenient to carry.
Easy to Use: This project aims to make your work easier with easy-to-use operation buttons. Just select dehydration. 35-70℃ different composition and different temperature, eight-level adjustment.
5 trays capacity: It also comes with 5 removable stackable trays. Hollow shelf, food grade material, fine workmanship.
360-degree: The fan and heating element installed at the bottom can provide a stable air flow to achieve the best drying effect without rotating.
Work Effeciently: It dries plant by removing moisture content, shrinking the plant but still retain 97% of nutrients.
This machine could retain the terpenes, flavor, and THC content during drying proccess.
ECO Farm 5 Layers Stainless Steel Drying Medicinal Plants Machine


MULTIFUNCTION FOOD DEHYDRATOR: Ideal for medicinal plants dryer. Dry plants and preserve a range of foods quickly and easily.
SAFE: The bottom-mounted fan and heating element provide constant air flow for optimum drying. No rotation needed. Adjustable thermostat and high quality recipes ensures medicinal plants are dehydrated at their optimal temperature and crispiness.
EASY USE AND CLEAN: Comes with 5 tray system with dehydrating foods at a fraction of the cost of commercially dried foods with no additives or preservatives. The package weight totally just 4.0 kg.Easy to clean and save.
DESIGN: Cleverly designed to circulate heated air across the ingredients to dry them slowly and naturally, locking in flavour and nutrients and keeping them tasty for longer!
ECO Farm 16 Floors Stainless Steel Dried Medicinal Plants Machine Dehydrating Machine Dried Food Dying Machine

ECO Farm stainless steel dried medicinal plants machine dehydrating machine dried food dying machine can be applicable in many ingredients, such as medicinal plants, fruit, tea...
We also have other options for 8/ 12/ 20 floors Dryer. If you need it, pls feel free to contact us.
Looking for more options and tools for your harvest? Welcome to visit our official website. Follow us could get the biggest discount. Now using coupon code: Nicole17 to get 17% off when checkout.
Whatsapp: +86 18756546482
INS:nicole9888888