Best Samsung LED Grow Light For Indoor Planting|17% OFF

Samsung is a pioneer in LED technology and one of the leaders of the horticultural lighting industry. Samsung sell their LED chips to other brands, who in their turn use the diodes to manufacture complete grow lighting systems.

Now, we'll look at the top two grow lights that use Samsung chips.

ECO Farm ECOZ Series 250W/510W/700W/1000W Samsung LM301H Chips LED Grow Light Strips With Separately UV+IR Control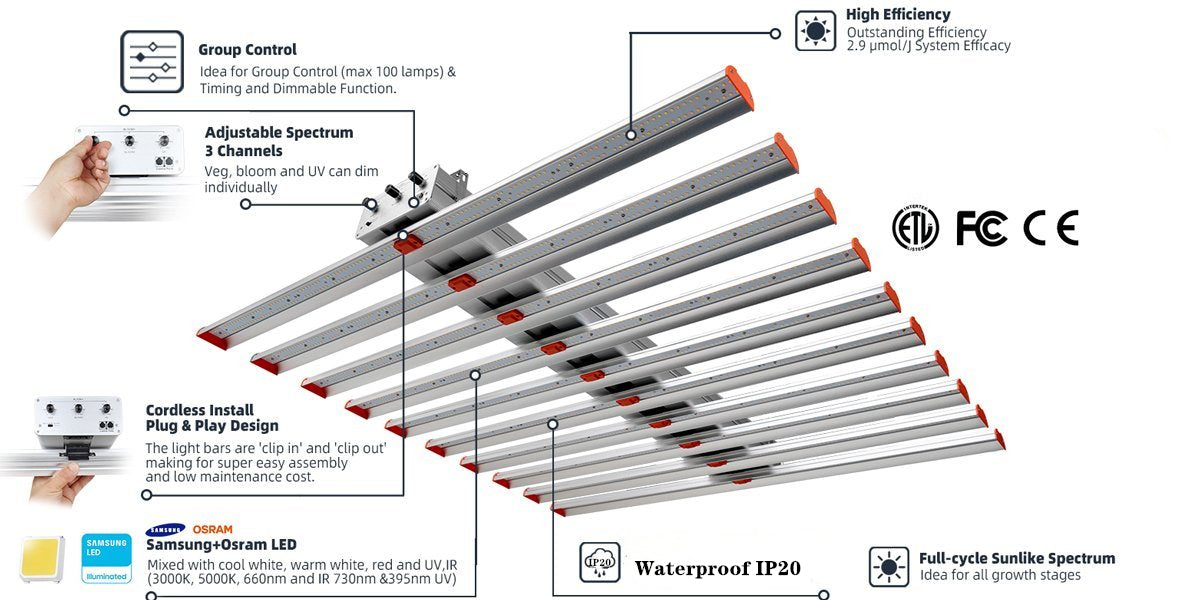 ECO Farm ECOZ 250W/510W/700W/1000W series light with top-bin Samsung LM301H chips(5000K+3000K)+Osram ssl80 (660nm+730nm)+Refond (395nm), offering all the necessary light effiency to your medicinal plants in whole growth stages - from VEG to Flower
Adjustable full spectrum 3 channels dimming way, each channel can be controllable separately.
Passive cooling, no noise operation.
Higher yields and lower cost: ECO Farm ECOZ series delivers powerful light output and uniform canopy penetration to resulting maximum higher yields.
'Plug & play' fast installation design makes your grow way easier with lowest maintenance cost and easy installation, specially big saves on shipping.
Save 100%-200% on lighting compared to other brands;
Make you get 30% Higher Yield compare the traditional lamps, Increases revenue with better quality flower,s and higher yield(maximize crop yield by growing vertical);
High yields and low consumption - 2.9 μmol/j ;
Reduce HVAC and electricity costs by 50-60%;
Reflector design with 120 Degree Wide Beam Angle;
Samsung 301H led grow light pre-assembled, easy to use, just plug and play to offer lightyour plants;
Quiet operation, without noise;
Unique optic lens modules guarantee your outstanding PAR output and strong penetrability;
3 Channel Dimmers Switches: VEG , Bloom , UV separately controlled, Freely adjust the lamps according to different growing stages; VEG dimmer to control white light 5000K, one Bloom dimmer to control white light +red light ( 3000K+660nm), and UV dimmer to control UV 395nm;
Plug & Play design, horticultural can be easier;
Perfect heat management, cool to touch.

ECO Farm SP Series 420W/630W/840W Dimmable LED Grow Light With Samsung Chips Foldable Light StripsDimmable LED Grow Light


High-efficiency full spectrum grow light: ECO Farm SP series led grow light have Samsung lm281B LEDs(3000k+5000k) +RED 660nm+IR 730nm +UV 395nm, provides the plant with the full spectrum from seeding to flowering. Ideal for indoor plants all stages growing, rapid plant response from seed to flower, speeds up flowering time and boost yields
Market-leading efficiency to 2.6 µmol/J and 2.5g yield per wattage with 30% higher average PPFD
Realize large-area harvest with LED lighting: Easy to dimming and heat dissipation, waterproof power supply, aluminum housing, long power supply life, suitable for large rooms and commercial places, make your plants get more energy, and get maximum headroom without burning plants
Optional touch screen controller, an idea for commercial growing (max 100 lights) &timing and dimmable function.
All in one design, build-in driver, free assemble, save time and shipping fee
Low Noise & Low Heat: No fans needed meaning low noise; Ambient heat is very low, so there is no need to worry about burns or damage to your plant

Looking for more options and information? Welcome to visit our official website. Follow us could get the biggest discount. Now using coupon code: Nicole17 to get 17% off when checkout.